Yesterday was a big day in DC.
An Election Day!
I always vote, not matter how unimportant the election seems, because the rule of thumb is that if you don't vote, you can't complain. If you live in DC, you know that it is impossible NOT to complain about our government and city politics, so I certainly don't want to rule myself out!
In addition to voting, I also ate! Surprise, surprise.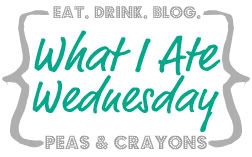 Breakfast was the usual- oats, chia seeds, coconut, peanut butter, banana and milk.
It's back to hot coffee this week.
For lunch, I had a leftover Italian sausage from the night before.
And, this delicious salad!
So many toppings! Tomatoes, carrots, edamame, pine nuts, cheese, dried cranberries and corn.
Snacks included yogurt with mangoes and a fruit salad.
Dinner was exceptionally delicious. Fish tacos with fresh mango salsa. (I went back for seconds)
Mango Salsa
Ingredients
1 mango, peeled and diced
1/4 green pepper, sliced thin
1/4 onion, sliced thin
1/2 cup diced tomatoes
1 avocado
1/4 cup fresh cilantro
3 tablespoons white wine vinegar
Juice of half a lime
1/4 teaspoon salt
Directions
Combine all ingredients and allow to sit for at least 15 minutes before serving