My first What I Ate Wednesday Post!!!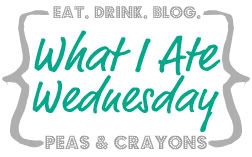 I've seen these on a lot of other blogs, but this is my first time joining in!
FYI, this is technically 'what I ate Tuesday,' but you get the idea.
Breakfast
Venti Starbucks unsweetened iced coffee with skim milk. 95% of the time I make my own coffee, but I was out of coffee pot filters yesterday and had to buy some at Starbucks. I did use my own iced coffee tumbler, though, which means I saved $.10 :)

Oatmeal- 1/3 cup oats, 2/3 cup skim milk, 1 tbsp shredded unsweetened coconut, 1 tbsp chia seeds, 1 tbsp peanut butter. Aren't oats always so beautiful?! There was a big gob of peanut butter at the bottom of this bowl that didn't get mixed it. That bite was extra delicious.
Lunch
This was an awesome salad- my favorite local Loudon Lettuce blend, carrots, tomatoes, cucumber, corn, black beans, goat cheese and leftover buffalo sausage from our picnic last weekend.

Grapefruit and kiwi:
Afternoon Snacks
Plain, low fat Greek yogurt with frozen blueberries and strawberries.

Blueberry Muffin Larabar- this was SO good, how have I not had this flavor before? It gives my (previous?) favorite- PB&J Larabars- a run for its money.
Dinner
Veggie and rice bowl- zucchini, mushrooms, onion, garlic and spinach with brown rice and lots of parmesan. I used the veggies that didn't fit on my pizza from the night before, but I was super annoyed to find that my Whole Foods zucchini was going bad 24 hours after I bought it. I was able to work around some of the soft spots- not sure if that's really healthy…- but, I can't wait until I see this stuff at the farmer's market!
Dessert
I wanted to try two ingredient cookies (3 mashed bananas and 1.5 cups oats), but I decided to add an egg, 1/3 cup dark chocolate chunks, 2 tbsp peanut butter and 1 tsp vanilla. (makes 18 cookies)
To be honest, you probably won't like these. I kind of didn't. That doesn't mean I didn't eat them!

And, they were easy to make!

And that's that! I hope I did this right and it links up correctly… I guess we will see!